Defining an exciting architectural future for Tustin, Calif., this 3,059-square-foot residence at Cira at the Landing brings a new energy to the community. Contemporary interiors complement the modern exterior, and natural light fills the home through high ceilings. An exciting stair to the third floor brings drama to a typically traditional circulation space. To complement the Southern California lifestyle, the third-floor bonus room and covered deck are an entertainer's dream, while providing relief from the sun and a comfortable space to relax.
Exterior material variations, and the occasional pop of color help differentiate the elevations within the community. A neutral color palette and natural materials, such as wood and stucco, define the "village" concept throughout the Cira neighborhood and modern touches enhance the timeless design. With intentional restraint, metal detail elements along with deeply recessed windows create depth and richness while offering shade at the glazing. The dark tone on the base performs as a grounding element to anchor the elevation to the lively street and create an eye-level connection between along each block.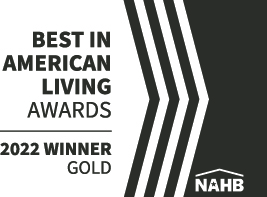 Judges' Comments | The home features a great roof deck that integrates well with the interior space. Other interior features, such as the dual shower, are cool and well appointed.