Clean lines, expanses of glass and open-concept living spaces reflect the Newport's exquisitely modern design. The home's innovative floor plan invites contemporary living, with inspired additions such as an arrival space connecting the garage and utility room, wine storage and a walk-in pantry in the kitchen, and a spacious outdoor living area with a kitchen and fireplace.
In the heart of the home, a dramatic cable railing staircase with wood stairs and upper-level walkway overlook the two-story dining room, which features a stunning area to display and store wine.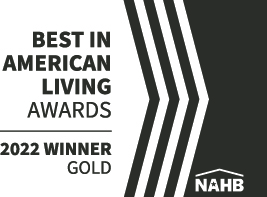 Judges' Comments | This space features elegant, beautiful scale. The lighting on stone wall on wine bar accentuates all the design elements.