Tucked away on a peaceful golf course, this 5,400-square-foot home certainly didn't lack views. It was, however, lacking an open design.
Removing two walls in the foyer opened up the space, allowing guests to see the spectacular view of the greens from the front door. Installing larger windows brightened up the space, making it appear larger, and two steel beams were added to the kitchen to create more cabinet space and functionality.
Natural entertainers, the home owners wanted their home to feel inviting to family and friends, whether they were hosting a fun game night or sipping on cocktails at the end of a long week. Having been enamored with an intimate bar they discovered on a trip to France, they decided to recreate the space in their home so they could have a place to escape every day. Using the French bar as the inspiration for the design details, the space includes a wine refrigeration area, a humidor, custom cabinetry and a cigar porch, ideal for entertaining.
In total, 1,800 square feet were added to the residence, so the home owners and guests alike have space to sit back, relax, and take in the view.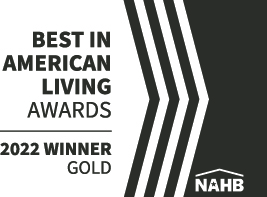 Judges' Comments | This project reflects a huge transformation—the new design fixed the whole right-hand side of the back of the home with a double-stacked porch. It also has a nice back kitchen, bool bar area with humidor and great rear outdoor spaces.