The Marbella model home's exterior features strong modern lines, which allude to modern comfort in a luxury lifestyle inside. This is achieved by a unique color palette of neutral tones with strong teal and bronze accents.
Contemporary elegance defines the Marbella model home's striking kitchen. Recessed ceilings in the great room and kitchen create a dramatic visual effect in the main living area. The gourmet kitchen features a showstopping center island, a functional pantry with cabinets and an additional refrigerator for livability.
A wine room and wine bar, conveniently located just off the kitchen, perfectly complements the casual dining space. The warm wood flooring grounds the space for relaxation, while the maze of beams along the ceiling is sure to "wow" guests.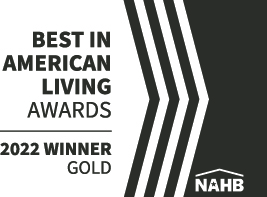 Judges' Comments | This kitchen is elegant, upscale and rich in color. The design is thoughtful, with creative features such as the hood to helps break up a long vertical wall and a concealed pantry door that resembles cabinetry. There's also lots light infiltrating from the ceiling, which is a great detail.