This modern farmhouse style home proves you can deliver a quality design, aesthetically and in plan that a home buyer will value and pay for while also managing the cost to build.
This home offers a three-bedroom, two-and-a-half-bathroom and two-car-garage plan in one story that is perfect for individuals of varying physical abilities with enough space for a young family. A dedicated, private flex space can serve as a home office, classroom, playroom or whatever else serves the owner's lifestyle. The California room enhances the indoor/outdoor livability, while the thoughtfully planned great room is laid out in an open concept that provides for separation of uses without compromising line of sight and connection. The location of a connected powder room and laundry room at the end of the entryway provides a convenient means for cleaning up and containment just before entering the heart of the home.
This efficient plan design concentrates articulation of the floor plan to the front elevation. Steeper roof pitch to the front elevation adds impact. An edited use of materials concentrates on using fewer materials to greater effect, while standardization of windows reduces window count and size variations.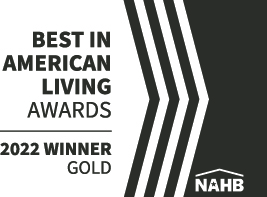 Judges' Comments | The home incorporates good, fun color, with very furnishable rooms. At 2,300 square feet, it's great for the square footage. And the lower pitch, addition-style front exterior adds a nice farmhouse look.