Innovative and energy efficient construction combine with unprecedented, leading architectural design to create homes with exceptional quality and refined craftsmanship. This micro home is minimalistic, requiring less maintenance and less material items to provide a place of refuge but allow residents to focus on other activities outside the home.
Laid out to promote community, this micro home is a part of a village of six in the heart of Phase II of Trilith Development. Located directly on the walking path that weaves throughout the development, the home is conveniently located to all of Trilith's amenities.
All of the homes in the Micro Village feature elevated ceilings, smart-home technology and high-efficiency windows and doors. In such a compact space, every little detail counts. A full-size shower, primary bedroom with a king size bed, a secondary bedroom, and modern finishes throughout help convey the sense that comfort and style are not being sacrificed in the service of small-space living.
Combining smart design, plenty of storage, and privacy—this home is truly unique.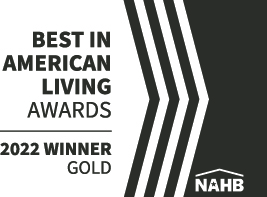 Judges' Comments | For 600 square feet, it's very successful. It could be well used as transitional housing or near a campus.