This 15-story mixed-use residential tower delivers 273 combined studio, one-bedroom and two-bedroom units. A multilevel parking garage provides parking for both retail and residential uses.
The building design predominantly features glass window walls and insulated metal panels. A syncopated rhythm of metal panels layers over the regular grid of the primary glass curtain wall to create a layered skin on the upper levels of the residential tower. The floor-to-ceiling glass maximizes daylight into the units and outward views to the east and west. Gray masonry veneer wraps the base extending outward from the tower and anchoring the building to the site.
With more than a level of grade change along the length of the site, the long slender building steps down at the north end of the site. A half-level of units and utility functions nestle into the site below the main ground level, connecting the units down toward the sidewalk and maximizing the built area.
The residential lobby connects to the street at the on-grade area of the site, creating walkable access to the adjacent employment centers, retail shops and entertainment areas and connecting to Madison's active bike trails, pedestrian paths and public transportation system.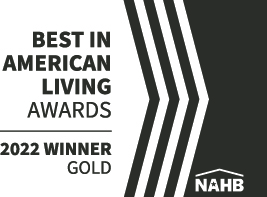 Judges' Comments | The balconies and indents add interest to the project's exterior.