The home's central focus is around the grand center room with an open kitchen to one side and a club room to the other side of the room.
A continuous covered area extends lifestyle living directly to the central pool area.
A six-car garage completes the entry statements with detached and attached structures.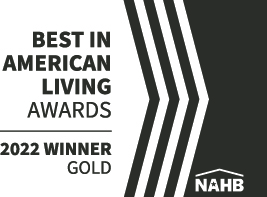 Judges' Comments | The pool area is stunning, with a hot tub enclosed in pool and a water feature that spills into pool. The louvered-like grill features of the openings and window detailing create a private ambience, especially in the rear of the home. And the courtyard is exceptional.