This home is called the Treehouse because of the view and feeling the oversized windows give on the second floor and also because the home leans toward green. It is built with energy-efficient, sustainable products and construction methods, including low-e windows, spray foam insulation, artificial turf and solar to name a few.
The home was designed to create a private sanctuary on this small infill lot with neighbors close on all sides. Using a side courtyard plan, the home opens to both the side and back, almost doubling its living space when incorporating the outdoors. Artificial turf enhances the indoor/outdoor living areas, and the landscape provides privacy from neighbors.
The entire lower level can be opened up to create one large living/entertainment space. Pocketing glass walls were used to create this effect. The kitchen opens to the pool area, outdoor fireplace, and summer kitchen with counter to ceiling pocketing windows. The second level features four en-suite bedrooms, each with its own balcony to continue the indoor/outdoor connection. The oversized windows on the second floor make you feel as if you are living in a Treehouse.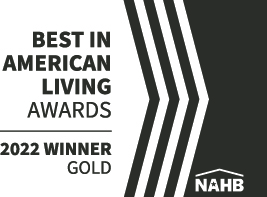 Judges' Comments | The pocket door that splits the counter in the summer kitchen is a creative transition to outdoors, and the pantry is well-disguised. The open pool cabana area creates flexible usage.